Quinta dos Termos®
by
Kathy Sullivan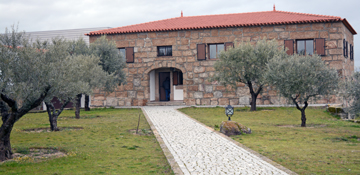 Summary: Quinta dos Termos® is located in Portugal's Beira Interior DOC, "located on the foothills of the Serra da Estrela." Large vineyards, with panoramic views, include various indigenous grapevines of Portugal. Quinta dos Termos® is a winery wine enthusiasts will enjoy visiting.
Quinta dos Termos with its vineyards are located in the Beira Interior which is close to the Portugal and Spain border. The Serra da Estrela Mountains are among the highest in Portugal. The climate in the Beira Interior is continental with long, cold winters and dry, hot summers. Land in the Beira Interior is considered to be rugged. Pedro Carvalho, Global Business Development for Quinta dos Termos, described the region's climate as hot during the summer at 40ºC (104ºF) and nights at 15ºC (59ºF) to 10ºC (50ºF), a good diurnal temperature for grapes to retain their acidity and phenolics. This is an extremely dry region.
Quinta dos Termos has been in the family since 1945 when Alexandre Carvalho obtained the property. In 1993 the Quinta dos Termos property passed to Alexandre's son, João Carvelho. Vineyard grapes were sold to other wine producers until 2001. In that year, they began producing their own wines to sell. Today the winery is producing more than 20 wines.
A cobblestone pathway leads to the impressive two-story, stone building close to the winemaking facility. Behind this building, a covered area houses tall stainless steel tanks. In front of several tanks is a single press with two baskets. Several tanks are located outside of the winery building.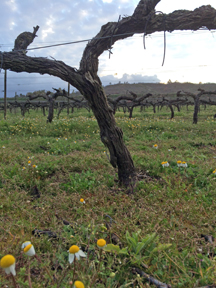 Vineyards
As one views the vineyards there is a sense that this is an area where one can see forever. The Quinta dos Termos property consists of 180 hectares (445 acres) and the vineyards cover 60 hectares (148 acres). Vineyards are located at 450 to 500 meters at the highest altitude. The winemaker prefers working with lower yields. The soil is composed of granite.
The day of our visit to Quinta dos Termos was cloudy and there was a cold wind blowing. However, it was delightful to see small, yellow flowers struggling to bring a bit of color to the vineyards that, in late March, were not ready to spring forth with their greenery.
The vineyards have 21 red grape varieties and 6 white varieties. The largest crops are Syrah, Sangiovese, Riesling and Petit Verdot. The oldest grapevines were planted in 1931. Other vines were planted 15 to 20 years ago. The dry region allows for no use of herbicides, pesticides or fungicides in the vineyards. All work in the vineyards is completed manually. When the grapes are ripe, they are harvested with 20 kilo baskets.
Quinta dos Termos is also planting some indigenous grape varieties because they are seeking to preserve indigenous grapes. As production increases, they will work to discover if these grapes have the potential for producing good wines.
Winemaking
Upon arrival at the winery, grapes are sorted. According to Pedro (pictured left), this is because the dry conditions usually prevent any type of rot. Typically red wines reach the market two years after harvest. Wine production averages 700,000 to 800,000 bottles. The hope of the winery is to reach 1 million bottles when newer vineyards come on board.
Wines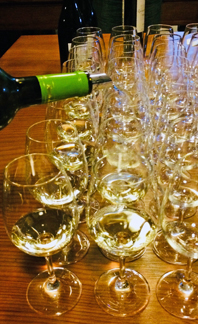 Our wine tasting took place in a large, second floor room which overlooked the winemaking area. The walls were decorated with colorful artwork. We tasted three wines and Pedro did not rush the tasting. There was plenty of time to sit and contemplate the wines.
Fonte Cal Reserva 2017, Beira Interior DOC, with 13% alcohol was produced in stainless steel. The yellow colored wine offered an aroma of flowers and citrus. The taste included notes of citrus and pineapple. The finish began with fruit yielding to flowers. This refreshing wine would pair nicely with seafood. The retail price is 7 euros in Portugal.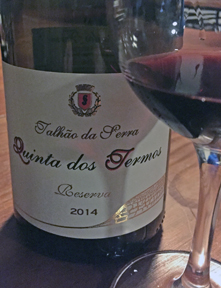 Vinhas Velhas Reserva 2015, Beira Interior DOC, was a field blend from an old vineyard. The wine was produced with Trincadeira, Jaen, Rufete, Marufo and Syrah. It should be noted that Vinhas Velhas means old vines. This 13.5% alcohol wine was an opaque dark violet to black color. The wine offered intense black fruit notes with baking spices. The taste included plum, blackberry and blueberry. This was a full-bodied wine with medium to bold tannins. The finish was fruity with a bit of spice. This wine retails for 10 euros in Portugal.
Talhão da Serra Reserva 2014, Beira Interior DOC, with 13% alcohol was produced with the indigenous grape Rufete. This wine was an opaque dark ruby color. The wine offered an aroma of smoke and black fruit. The taste was of blackberries and earthy-like mushrooms. This was a medium/full-bodied wine with medium tannins. The finish had fruit yielding to baking spices. The wine retails for 14 euros in Portugal.
Travelers and wine enthusiasts will want to stop at Quinta dos Termos, where they can enjoy tasting a variety of wines including some produced with indigenous grapes.
Quinta dos Termos
Carvalhal Formoso 6250-161
Belmonte, Portugal
Article written April 2018.
---
Please support the following.
| | | | | |
| --- | --- | --- | --- | --- |
| | | | | |
| Portugal | Spain and Portugal | | | |