Herdade do Mouchão
by
Kathy Sullivan
Summary: Herdade do Mouchão is a family-owned vineyard and winery. The Reynolds family has been involved in the wine industry since the early 1800s. Their first interest was in shipping port. Later they moved to Portugal's Alentejo region and became involved in the cork industry. Eventually they followed their passion to producing fortified wines. Today, in addition to producing wine, Herdade do Mouchão produces olive oil.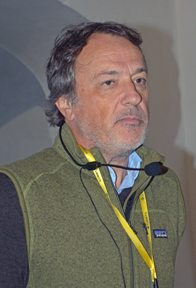 Iain Reynolds Richardson, provided us with a detailed tour of Herdade do Mouchão, a winery which follows a traditional winemaking protocol. Construction on the current Herdade do Mouchão winery in Alentejo was begun in 1901. The facility was finished in 1904. Electricity was not added until 1991. Today it is the 6th generation of the family who is continuing the winemaking tradition. Iain explained how Phase I of the winery took place from the 1950s to the revolution. During the revolution, the estate was taken over by the government but years later the family regained their property. Phase II began in 1985 to 1986, after the revolution.
Although, the winery had been producing wine for many years, the first wine was bottled in 1949. Prior to 1949 the wines were in casks. Visitors to Herdade do Mouchão will see a blend of old and new winemaking technology. Outside of the winery, a vintage wine press painted a deep red color was seen. Inside the winery, walking past large wood tanks, we saw an occasional vintage wood ladder leaning against a wall, another next to a tank. The large barrels are constructed of mahogany and monkey tree wood. At the end of the long room, cement lagars were seen. These are still used today. Whole clusters of grapes are placed in the fermentation bins, where grapes are stomped by foot. Afterwards the mixture ferments.
Herdade do Mouchão Vineyards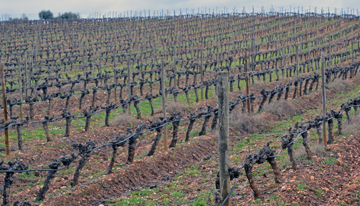 Herdade do Mouchão has 40 hectares (99 acres) of vineyards. Vines in seven of the hectares are 28 years old. Of the 40 hectares, 90% of the vineyards are more than 15 years old. The primary grape variety is Alicante Bouschet. The vineyards consist of mostly  well drained alluvial loams. Behind the winery there is a great vineyar plot with red Mediterranean soils overlaying chalk reaching two meters in deep. According to Iain, these vineyards are "making wonderfully concentrated wines."
Wines by Herdade do Mouchão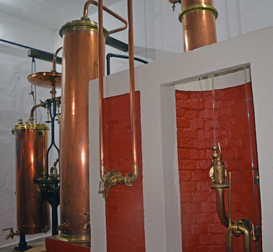 Our group's wine tasting took place in a building with a large copper still at one end, and at the other end a long table covered with a pastel plaid tablecloth. Several types of appetizers were available to enjoy while tasting the Herdade do Mouchão wines. During our tour Iain commented, "Mouchão wines are for keeping rather than drinking right away." Today Herdade do Mouchão is producing 220,000 bottles of wine. They are available in many parts of the world.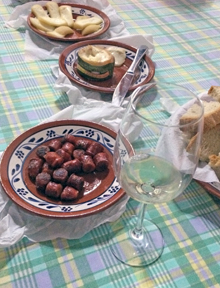 The 2017 Dom Rafael Branco, Alentejo DOC was a blend of Antão Vaz and Arinto. The yellow colored wine had 13.5% alcohol. The wine had a tropical aroma. The taste included yellow stone fruit, lemon and grapefruit. The finish was crisp and fruity. Pair this wine with seafood.
Dom Rafael Tinto 2015, Alentejo DOC was a blend of Aragonez, Trincadeira, Castelão, and Alicante Bouschet. This 14% alcohol wine was an opaque dark ruby color. The aroma was a black fruit salad and flowers. The taste included blackberries, violets, baking spices and a hint of leather. This was a full-bodied wine with medium to bold tannins. The finish was crisp with fruit and spice notes.
Ponte das Canas 2014, Alentejo DOC was a blend of Touriga Nacional, Touriga Franca and Syrah. The 14.5% alcohol wine was an opaque dark ruby to black color. There was an aroma of black fruits. The taste included notes of blueberries, blackberries, leather and baking spices. The wine was full bodied with bold tannins. Fruit and spice were on the finish.
Mouchão 2012, Alentejo DOC was produced with Alicante Bouschet. The 14.5% alcohol wine was an opaque black color with a ruby hue. The aroma was of black fruit. The taste included notes of blackberries, spices and eucalyptus. The full-bodied wine had very bold tannins. The fruit yielded to spice and eucalyptus.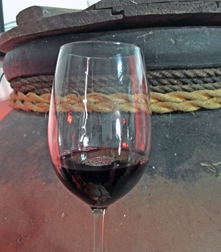 Mouchão Sobremesa Dessert Tonel Aged 2012, Alentejo DOC was produced with Alicante Bousche grapes.The wine was fermented in a lagar. Neutral brandy was used to fortifying the wine. The wine was a dark ruby to black color. This dessert wine had 20% alcohol. There was an aroma of dried black fruit. The taste included notes of dried berries and prunes and had a slight sweetness. The wine was full bodied with medium tannins. The finish with very little alcohol burn reminded one of delicious dried fruit.
The dessert back label read, "Thomas Reynolds' first business venture in Portugal was as a Port shipper in the early 1800's. By mid-century the family had moved south to the Alentejo to focus on cork production. However, the passion for Portuguese fortified wines remained and "Sobremesa - dessert" wines have now been produced at Mouchão for well over 100 years. Produced exclusively from the blackest of red grapes, the Alicante Bouschet and foot-trodden in traditonal lagares, this unique fortified wine has been aged for five years in old wood. Dark, pruney with nutty black chocolate, it is finely balanced with fresh tones of mint and local eucalyptus."
Herdade do Mouchåo also distills brandy. The brandy we tasted was 50% alcohol. The brandy was fruity with notes of peach and had a slight alcohol burn.
While visiting Herdade do Mouchäo, in addition to their wines also ask about the olive oils. At the winery, you can purchase wine, olive oil and honey. The property also produces cork, mutton, wool and cereals.
Herdade do Mouchao
7470-153 Casa Branca, Portugal
Article written March 2018.
---
Please support the following.
| | | | | |
| --- | --- | --- | --- | --- |
| | | | | |
| Portugal | Spain and Portugal | | | |