Quintas de Melgaço
by
Terry Sullivan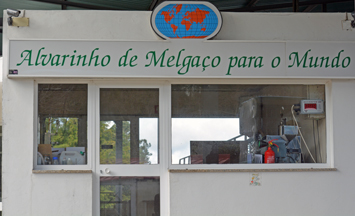 Summary: Quintas de Melgaço is a cooperative winery with over 500 shareholders, many having small vineyards. The Alvarinho grape is supreme in Melgaço and visitors can sample many different wines made from this variety.
Having spent the last couple years writing about the Albariño from north of the Minho River, we now had a chance to taste and write about the Alvarinho grape south of the Minho River. Our one-day trek into the Vinho Verde wine region took us near the Portugal/Spain border. We visited Quintas de Melgaço in the town of Melgaço, one of the central points for Alvarinho grapes.
Quintas de Melgaço was begun by Amadeu Abílio Lopês, from Brazil, who came to Melgaço to start a winery in 1990. He wanted to create a cooperative. The winery started producing wines in 1994 with a few dozen shareholders. Having no heir, in 1996 Amadeu gave the winery to Melgaço City Hall, which became the owner of more than 70% of the business. Today the company has over 500 shareholders and the Melgaço City Hall is the majority shareholder with about 60% of the shares. This company enables the small producers in the area to gain a foothold in the market.
Winemaker Élio Barreiros took us on a tour of the winemaking production areas. He explained that Quintas de Melgaço is a company that sources all of its grapes from growers in the surrounding regions. The majority of production is devoted to white grapes. Of the white grapes, Alvarinho has the highest production. When grapes arrive at the winery, they are checked for pH and brix.
Élio likes to ferment and age the grapes separately. He will also ferment different batches of grapes at different temperatures to move the wine in directions that have different characteristics. Then Élio uses his artistic abilities in making blends. He said, "My job is to make a blend. It's cooking." He went on to explain, "If you only make one wine, you have nothing to blend." Élio's blending gives him several wines from different vineyards and fermented at different temperatures to create the perfect wine.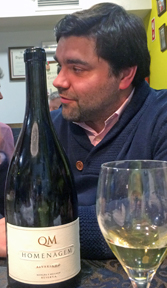 We had several winemakers in our group that could not resist asking what happened to some of the stainless steel tanks that looked like they were crushed. Élio stated, "That's what happens when you open a valve at the bottom of the tank without opening the one at the top of the tank." As we walked around the top of the tank area, we had wonderful views of the countryside. Vineyards stood out even though the vines were still dormant showcasing their architecture.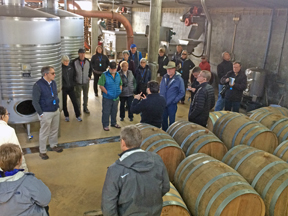 We proceeded to the barrel room where Élio spoke about the white wines he likes to age in neutral oak. We then proceeded to the tasting room, where we tasted several wines. We limited our tasting to the wines that Élio produced after he was recently hired at Quintas de Melgaço. The winery produces two million liters of wine, approximately 3,000,000 bottles. Brazil is a great market and the United States is becoming a good market.
Wine Tasting
There are different brands sold by the winery. The QM brand is crafted with grapes that are 100% Alvarinho. The Torre de Menagem brand is a blend of grapes often including Alvarinho.
The 2017 Torre de Menagem Alvarinho/Trajadura, Vinho Verde DOC was a light yellow color and had 12% alcohol. There were tropical fruit notes on the aroma and taste. The finish was crisp and fresh with a fruity emphasis. We noticed a tower on the front label. We found out about this tower during lunch. Use this wine as an aperitif or paired with fish, seafood and white meats.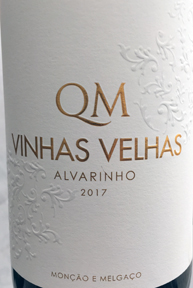 The 2017 QM Vinhas Velhas, Vinho Verdes DOC was produced with grapes from a single parcel of thirty-year-old vines. Vinhas Velhas stands for "Old Vines". This 13% Alvarinho wine had a yellow color. The aroma was very tropical. The taste had a smooth mouthfeel and offered grapefruit and mineral. The finish was crisp and fruity with the fruit yielding to mineral on the aftertaste. Enjoy this wine with fish, seafood and poultry.
The 2017 QM Alvarinho, Vinho Verdes DOC was 13% alcohol. This light yellow colored wine was made from Alvarinho grapevines at least 40 years old. It had a very tropical fruit aroma. The taste offered citrus, pineapple and mineral. The finish was crisp and fruity. Pair this wine with fish, seafood, chicken, pork and cheeses. It also makes a wonderful aperitif.
The 2017 QM Nature Alvarinho, Vinho Verdes DOC was a light yellow color with 12.5% alcohol. There were tropical notes on the aroma with grapefruit and pineapple on the taste. The finish was crisp and fruity. This wine does well paired with seafood, but also matches Italian and Asian foods.
Lunch at Adega do Sabino
We took the bus for a short ten minutes to the restaurant Adega do Sabino in Melgaço. We were escorted downstairs to a private room that was set up for us. At our table, winemaker Élio Barreiros and sales assistant and public relations Marta Caldas joined us. We soon discovered that not everything in the wine business is serious. Élio and Marta have a humorous streak.
This humorous streak was revealed when someone at our table suggested we open the red wine bottle on the table. Élio quickly told us to wait. He then ordered small bowls for each person at the tabel. Élio said, "This wine is not fit for a wine glass. It is best poured into a bowl and use your bread to dunk in it." It is important to note that this was not one of Élio's wines. The point made is that Vinho Verde makes excellent white wines, reds, not so much.
Throughout the lunch our learning continued. A photo on the wall behind our table showed the town of Melgaço. In the photo there is a tower. Marta explaimed that is the tower used on the wine bottle labels with the Torre de Menagem brand. We also noted the versatility of the Alvarinho grape. It paired with fish, blood sausage and beef.
During the feast, the table next to us opened the red wine and poured it in their glasses. Élio told us to watch their faces as they tasted the red wine. We observed many questionable expressions. Those at our table quietly laughed.
It is a pleasure to be around people who have a passion for what they do. It is also great when these people are not too serious and can laugh while getting others to laugh. A visit to Quintas de Melgaço is an enjoyable experience.

Quintas de Melgaço
Ferreiros de Cima, Alvaredo, 4960-010 Melgaço, Portugal
GPS: N42º 5' 34" W 8º 17' 56"
Article written April 2018.
---
Please support the following.
| | | | | |
| --- | --- | --- | --- | --- |
| | | | | |
| Portugal | Spain and Portugal | | | |