Quinta de Lemos
by
Kathy Sullivan
Summary: Our visit to Quinta de Lemos, in the famed Dão region of Portugal, included a winery tour, wine tasting and wonderful lunch. Quinta de Lemos uses only estate grown grapes for their wine production. In addition to producing quality wines, Quinta de Lemos has 3,000 olive trees.
Quinta de Lemos is located on the Beira Alta plateau in the Dão region, the oldest wine producing area in Portugal. The area is protected by four mountains: Serra da Estrela, Serra do Caramulo, Serra do Bucaco and Serra da Nave.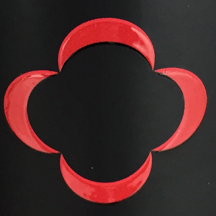 Celos de Lemos bought a vineyard in Silgueiros during the mid-1990s. At that time the vineyard consisted of ten hectares (25 acres) of grape vines.
Quinta de Lemos has a unique logo which features four crescents touching, almost forming a circle. Symbolically the crescents represent the directions of North, South, East and West. The logo also signifies the four mountains that protect the estate, the four grape varieties used for Quinta de Lemos wines and the important family values of humanity, simplicity, vision and sharing.
Arriving at Quinta de Lemos on a cool March day, a light, gentle fog was drifting over a part of the vineyard. Soon we walked up several steps into a modern-style winery building. The first room was a welcoming area with numerous displays of vintage wine equipment, wine books and bright colorful flags. A large, bright poster emphasizing the Dão DOC was displayed on the wall.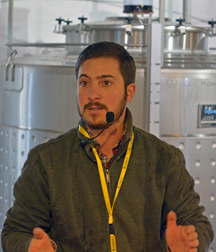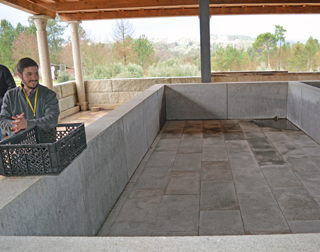 Winemaking and Winery
Shortly thereafter we were greeted by Pedro Figueiredo, who quickly led our group to an outdoor but protected area that had several large lagars. The lagars are made of granite and each lagar holds 10 tons of grapes. Pedro described the winemaking protocol at Quinta de Lemos. The tanks can heat and cool as needed. Quinta de Lemos also uses French wood tanks that hold 9,000 liters. The winemaker can ferment the wines in the tanks and in the lagars.
We toured the winemaking area with its large stainless steel tanks and many sizable wood vats. Another area with curved arches was filled with oak wine barrels.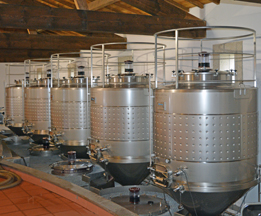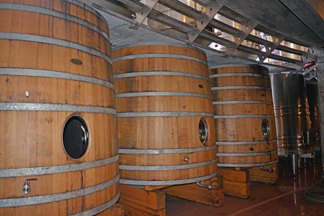 Deep underground cellars in granite store thousands of wine bottles. A rough granite cave wall showcases the difficulty of having completed the cellars. In the barrel room, red wines are aged for 15 to 18 months. After bottling, the red wines are aged for an additional two years. White wines and rosé wines are aged in the barrel room for six to twelve months. They are then aged in the bottle for one year before going to market. Quinta de Lemos exports 70% of their wines.
For the first two years, Hugo Chaves, enologist, produced wines by blending. He eventually began to make single varietal wines. He vinifies the varietal grape varieties separately. Today Quinta de Lemons is producing 90,000 liters in each year of production. They have capacity for more, but their objective is quality not quantity.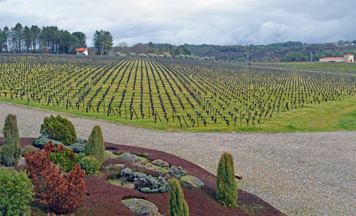 Vineyards at Quinta de Lemos

Quinta de Lemos, with 50 hectares (124 acres) of property was founded in 1996/1997. Quinta de Lemos is located at an altitude of 340 meters (1,115 feet). Vineyard production is maintained by dropping fruit. The workers allow only four to six grape clusters per grapevine. All grapes are hand harvested. Grapes are put into lugs and sent to the winery for processing. Today Quinta de Lemos has 25 hectares (62 acres) of grapes growing in granite and sandy soils. Grape varieties in the vineyards include the indigenous: Touriga Nacional, Tinta Roriz, Jaen and Alfrocheiro. They also grow the white grapes Encruzado and Malvazia. Each hectare is planted with 6,060 grapevines and produce about 3,000 to 4,000 liters each.
Wine Tasting and Lunch
After our detailed tour, we went to a large reception room. This event room had large windows and views of the vineyards. We tasted wines and enjoyed a delicious lunch. A couple of intriguing art displays and a grand piano added to the ambiance.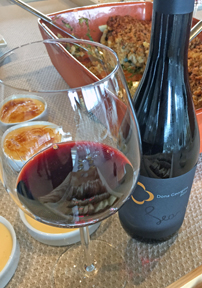 One of the highlights of the lunch was the fish casserole-style dish made with cod. In Portugal, we learned that they have 1001 ways to prepare cod. The casserole was delicious. Another dish was a bowl of hot soup. Dessert included a crème brûlée.
The 2009 Jaen, Dão DOC, produced with 14.5% alcohol, was an opaque dark purple color. The wine offered an aroma of blueberries and blackberries. The taste was also of blueberries and blackberries with mineral traces. This was a full-bodied wine with bold tannins. The finish had fruit and spice notes.
Touriga Nacional 2011, Dão DOC, with 14% alcohol, was an opaque dark ruby color with a black hue. The aroma was of black fruit. The taste included plums, cherries and baking spices. This wine was full bodied with bold tannins. The finish had fruit yielding to baking spices.
The Dona Georgian 2011, Dão DOC, was a blend of Touriga Nacional and Tinta Roriz. The 14% alcohol wine was an opaque dark ruby color with a black hue. The aroma was of black fruit. The taste included notes of blueberries, cherries and was earthy. The wine was full bodied with very bold tannins. The crisp finish had fruit and spice on the aftertaste.
Wine enthusiasts will want to visit Quinta de Lemos for the experience. For those who especially enjoy bold tannins, consider looking for a Quinta de Lemos red wine when shopping.
For more information about Quinta de Lemos, visit this page.

Quinta de Lemos
Passos de Silgueiros | 3500-541
Silgueiros | Portugal
Article written April 2018.
---
Please support the following.
| | | | | |
| --- | --- | --- | --- | --- |
| | | | | |
| Portugal | Spain and Portugal | | | |