Portugal
"Haven't seen that before" was a frequent concept during our trip to Portugal. Winemakers, wine growers and wine enthusiasts on our 2018 trip to Portugal were fascinated with many of the winemaking and wine growing techniques discovered during the ten-day trip. Our trek was through the enology and viticulture department at Washington State University. We added a couple of extra days to our trip to see some of the many Port houses in Porto.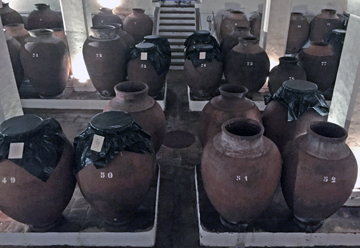 Ancient History
In 3500 BC the primary culture of the Peninsula was Iberian, that included people from North Africa, the Mediterranean areas and native groups. The Iberians traded with the Carthaginians and the Phoenicians and later with the Greeks. Portugal became the country Portugal in 1143 after Afonso I defeated his mother in 1128.
Portugal's indigenous people:
2000 BC Neolithic stone builders
1200 BC Phoenician traders
700 BC Northern Celts
700 BC Greek colonists
500 BC Carthaginian conquerors
200 BC Roman conquerors
50 BC Roman settlers
During Julius Caesar's time, Rome had overtaken the area now known as Portugal and settled at Olissipo which is now Lisbon and Portus Cale now Porto. The Romans brought laws, wine, the Latin language, and Christianity. Wine was made in fired clay vessels that are now called tally. Some producers continue to make traditional wines the way the Romans made the wine thousands of years ago. Rome fell in 476 AD and the Christian Germanic Visigoths ruled this region saving it from barbarians.
Winemaking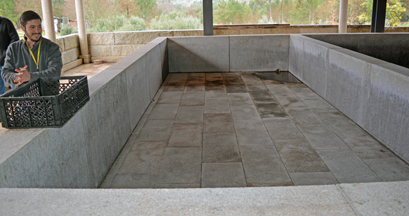 Winemakers in Portugal have embraced new technologies, and at the same time hold on to tradition and cultural heritage. They see the value in the many indigenous grape varieties. Today, many of Portugal's winemakers prefer the indigenous varietal grapes over the International grapes.
Portugal's indigenous grapes developed over a long time period traced back to the Bronze Age (1300 - 700 BC). Ancient civilizations such as the Tartessians, Phoenicians and Romans had an influence on winemaking. The country has over 250 indigenous grapes; very few of them are planted elsewhere in the world. Seven white varietal grapes and six red varieties are among the top winemaking varieties in Portugal. The following list contains the popular name of the grape, the region it is predominant and optional names. At several wineries, we observed new and old lagers. An open fermenter such as the one pictured.
White Grape Varieties
| | | |
| --- | --- | --- |
| Grape Variety | Region | Also Known As |
| Alvarinho | Vinho Verde | Albariño in Spain |
| Antão | Alentejo | |
| Arinto | Bucelas and Southern Portugal | Pedernã |
| Bical | Bairrada | |
| Encruzado | Dão | |
| Fernão Pires | most widely planted white grape variety in Portugal | Maria Gomes |
| Loureiro | Vinho Verde | |
Red Grape Varieties
| | | |
| --- | --- | --- |
| Grape Variety | Region | Also Known As |
| Baga | Bairrada | |
| Castelão | Douro | |
| Tinta Roriz | Douro | Aragonês (Alentejo) and Tempranillo in Spain |
| Touriga Franca | Douro | |
| Touriga Nacional | Douro and Dão | |
| Trincadeira | Alentejo | Tinta Amarela |
Blends
Traditionally, Portuguese winemakers make blends. Two exceptions to blends include the white variety Alvarinho from the Monção / Melgaço in the Vinho Verde region, and the red grape variety Baga from the Bairrada region. Other than varietal wines made from these two grapes, most wines are blends of traditional Portuguese grapes. Some of these blends can include over twenty grapes.
Some common blends include the white grapes Arinto with Fernão Pires.In the southern Alentejo region, the red grapes Trincadeira and Aragonês are blended. In the Douro region, Touriga Franca and Touriga Nacional are often blended. Portuguese indigenous grape varieties are also blended with international grape varieties.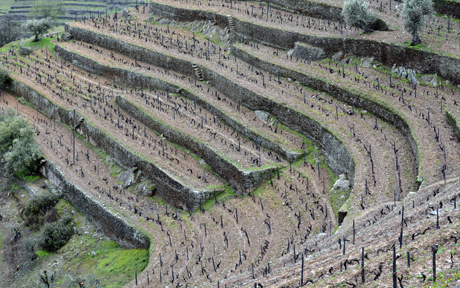 DOC Regions
Portugal has 31 DOC regions. The initials DOC refer to Denominação de Origem Controlada (Controlled Denomination of Origin). Also in use are the initials DOP meaning Denominação de
Origem Protegida (Protected Denomination of Origin). In order to receive DOC status, certain regulations must be followed such as grape yield, allowed grape varieties and official tasting and approval. One of the best known regions is the Douro. Even during winter, the terraced vineyards dominate the mountain slopes down to the Douro River. By March, the vines have been pruned close to the ground (pictured).
Vinho Regional and Vinho Indications
Portugal is divided into 14 regional wine areas. The European Union established titles for these wines IG ('Geographical Indication) or IGP ('Protected Geographical Indication). Many Portuguese winemakers like to use the traditional VR (Vinho Regional) indication. Winemakers will use the VR indication if their wine consists of grapes not approved in the blend in order to achieve DOC indication. Winemakers have greater flexibility and creativity crafting a VR wine than a DOC wine.
The Vinho indication applies to table wine. These wines do not follow rules stipulated by the VR or DOC indicators.
---