Wisconsin, like many other states, is witnessing an increase demand for wine. As people buy into the eat and drink local movement, more demand for Wisconsin wine will be met by the opening of additional wineries and increased acreage of grapes throughout the state. In 2007, Wisconsin had 41 wineries and about 480 acres of grapes. Now the acreage is closer to 700 acres according to Dean S. Volenberg, Agricultural Educator at the Door County University of Wisconsin Extension. There are now over 50 wineries in the state. Value added farming and agri-tourism also help expand the Wisconsin grape and wine industries.
Wisconsin has two identified American Viticulture Areas. The Wisconsin State AVA encompasses the state. The Lake Wisconsin AVA is north of Madison and bordered by the Wisconsin River and Lake Wisconsin. This area has moderating temperatures and about 15 days longer growing time than surrounding areas. Other areas are currently in the application process. Expect to see additional AVA's in the future.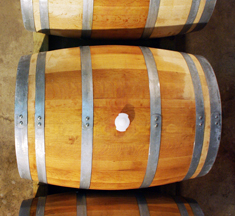 Wisconsin is a cold climate for grape growing. Many grape varieties developed by the University of Minnesota do well in Wisconsin. Grapes such as Marechal Foch, Frontenac, La Crescent, La Crosse and St. Pepin can tolerate the colder climates. Frontenac is a popular red wine grape and St. Pepin is often used in the making of Icewines. Some growers have had some success with a limited number of vinifera grapes. Chardonnay, Gewürztraminer and Pinot Noir are grown in the state, but on a small scale. One can expect to find many wines made from fruit especially cranberry, cherry and apple. Wisconsin is the largest producer of cranberries in the nation. These fruit wines range from dry to sweet. Most wineries have dry to sweet wines in their portfolio. Wineries seem to sell more of the sweeter wines.
Several wineries visited were in an urban setting. They source grapes from growers in Wisconsin and from growers mostly in California and Washington. Several wineries visited in a country setting have between one and thirty acres of grapes. Many also source grapes from outside the state mostly from California.
Research at three of the state's University of Wisconsin Agricultural Research Stations is determining which grape varieties do well in different areas of the state. This research will help growers better understand the varietal grapes they should plant in their vineyards.
Images of Wisconsin Wineries and Vineyards
by
Terry Sullivan

---