Rockbridge Vineyard
by
Kathy Sullivan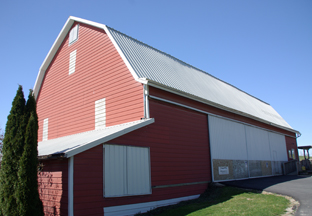 Summary: Enjoy a visit to Rockbridge Vineyard located near Stanton, Virginia. Be sure to taste a variety of wines including a white Pinot Noir and V d'Or, a dessert wine.
Rockbridge Vineyard is located on land that was once a 19th century dairy farm. Shepherd Rouse and his wife, Jane Millott-Rouse, owners, remodeled a portion of the red barn to function as the winery tasting room. Since the beginning, they have added two additional buildings.
Shepherd has been interested in wine and producing wine since he studied geology with a Fulbright Scholarship in 1976 in Germany. That is where he learned about wine. In 1978 he lived in California where he studied and worked learning about California's style of making wines. Even today with his winery and vineyard in Virginia, he uses a company located in California for chemical analysis. A sample can be sent on Monday and the results will be available on Thursday.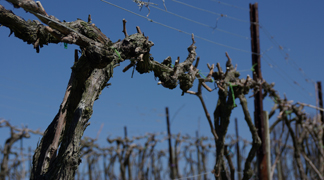 The Vineyards
Shepherd and Jane began planting grapevines in 1989 at an elevation of 1,920 to 2,000 feet. The first five acres were Vidal Blanc. In 1997 grapevines added to the vineyard included Chambourcin, Pinot Noir, and Vignoles. By 1999, they had added additional varieties including Traminette, Pinot Noir and Riesling. Today there are 18 acres of grapevines.
Shepherd believes in growing many of his own vines. For Rockbridge Vineyard it is cost effective. However, vinifera grapes are purchased so that they have the protection of grafting.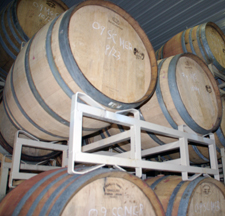 The Winery
In 1991 Shepherd produced 500 cases of wine at a nearby winery. In 1993, he processed 2,000 cases at other wineries and brought the juice to Rockbridge to produce the wine. By 1994 he was up to 4,000 cases. In 1995 he purchased a press and now he produces 9,000 cases of wine at Rockbridge Vineyard. Shepherd also owns a mobile bottling unit. For many of the wines he produces, he uses whole cluster pressing. With his skills, Shepherd is focused on the concept of "hands on" small batch winemaking. He believes that the best wines are produced by blending.
The Tasting Room
The tasting room has a finished lightwood floor and paintings decorate the walls. A U-shaped tasting conter can accommodate several people. Wine accessories are available to browse. Included items for sale are wine bottle carriers, a local wine cookbook, decanters and personalized gift baskets. Locally made soaps and cheese trays are also available. Several interesting pieces of art hang decorate the walls and are available for purchase.

White Wines
Pinot Noir Blanc de Noir 2009, a white Pinot Noir, was a light yellow with peach notes. It offered sparkling wine characteristics without the effervescence. There were peach nuances on the finish. Chardonnay DeChiel 2008 was named for Shepherd's paternal grandmother. This wine had apple and vanilla nuances with apple and citrus notes on the taste. The crisp finish offered citrus notes.
Red Wines
Tuscarora Red 2007 was a blend of Chambourcin, DeChaunac, Cabernet Franc, Merlot and Pinot Noir. The result was a wine with a dark purple to black color. The aroma had nuances of licorice and blackberries. The taste was of black fruit notes especially plum and blackberry. There were mild tannins on the fruity finish. This is a food friendly wine.
Cabernet Franc 2006 was a dark ruby to purple color. The aroma and taste had notes of plum and spice. There were mild tannins on the finish.
Dessert Wine
V d'Or 2008 was a blend of Vidal Blanc, Riesling, Vignoles and Traminette. The aroma was of peach and honey while the taste was like a fruit salad. The residual sugar was 15 percent. This is a delightful dessert wine.
Enjoy a visit to Rockbridge Vineyard in Virginia's countryside. As you taste wines, be sure to consider tasting the Pinot Noir Blanc de Noir and the V 'dOr.
Rockbridge Vineyard
35 Hill View Lane
Raphine, Virginia 24472
GPS: N37º 56.524' W79º 14.443'
---
Visit these Virginia wineries and wine tour groups that partner with Wine Trail Traveler.