Mountain Cove Vineyards
by
K. L. Sullivan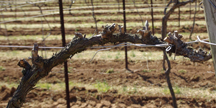 Driving along scenic roads of Southern Virginia we came upon an unpaved driveway, strewn with small stones. Proceeding, uncertainly, on the long driveway to the buildings in the distance we passed a vineyard on the right where a tractor was busy working among the grapevines. While parking on pavement is limited, there is a large amount of grassy field to park on just past the winery buildings. Disabled parking is available and clearly identified.
Mountain Cove, Virginia's oldest existing winery is an adventure to visit. The wine attendant, Michael Sipple, is a dynamic and exuberant. He is knowledgeable and enthusiastic about wine and Mountain Cove Vineyards. Wearing a sports cap with God Bless America and a t-shirt designed with a Mountain Cove Vineyards' image, Michael is able to talk about an array of issues dealing with wine and viticulture and he manages to entertain, pour wine and convey this information to visitors. Talk about multi-tasking! Michael is a master at it.
Michael's philosophy on cooking with wine is to drink the wine and omit the food. To show the effects of temperature on reds he did a blind test. He served blackberry wine chilled and then poured a wine and asked if we could identify it. It was the blackberry wine at room temperature; same wine just a different temperature. When doing this test, some people think it's a Merlot.
Other visitors also enjoyed Michael's discussion of wine saying, "Well, it was like a presentation." It was nice to hear others compliment him. Michael also had high praises for Al. Al Weed is an owner, winemaker and actively participates in the running of Mountain Cove Vineyards. He was the one on the tractor in the vineyards.
In addition to wine tastings, discussions centered on corks, aging of wines, filtering wine, oak barrels, grape name variations, history of Mountain Cove, and how temperature affects on wine.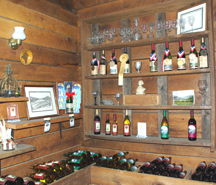 Mountain Cove produces 1000 cases of wine, including best sellers Skyline White and Blackberry. Skyline White is an unusual wine. Although it is not a sparkling wine it has some effervescence. Fruit wines are available including apple and blackberry wines. Chardonnay 2005 is fermented and stored in American Oak for three months and was sold out. At times peach wine is available but not at the time of our visit.
Michael shared a superb tip with us. If you have wine left over after dinner, you can freeze it in ice cube trays. Use the resulting wine cubes in your favorite recipes.
Mountain Cove Vineyards was founded in 1973 on property, which was originally an orchard and now has eight acres of grapes. The tasting room was built in 1977 and appears to be renovated barn but in actuality was built using locally harvested and sawn oak boards.
Shelves with a variety of wine gifts are available as well as a wide variety food items including jams, jellies, mustard and salad dressings.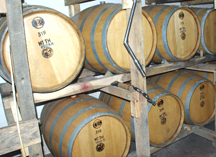 After the wine tasting we went on a short self guided tour of the winery. A large refrigerated trailer is located on the property. This trailer is used to keep the grapes at 50 degrees F before crushing. We continued with our tour walking past the crusher and presser. We entered a stone building that is occupied with a bottling machine. To use this bottling machine requires a minimum of two people. In order to apply labels and heat shrink capsules, it is necessary to have three people working together.
While we were in the tasting room, a couple with a toddler came in and bought a bottle of wine, asked for it to be opened and went outside to the gazebo to share it. With the beautiful scenic Virginia countryside, Mountain Cove is a winery to visit on a warm, sunny day. Take time to enjoy the country atmosphere and the wine.
Mountain Cove Winery
Lovingston, Virginia

---
Visit these Virginia wineries and wine tour groups that partner with Wine Trail Traveler.