Pillar Bluff Vineyards
by
Kathy Sullivan
Summary: Pillar Bluff Vineyards is a winery where you will meet the winemaker and owner, Gill Bledsoe. As Gill said, when people visit the winery they will find, "Good wines with a comfortable attitude."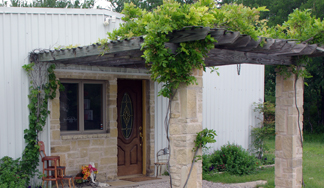 We met Gill Bledsoe, owner and winemaker, in the Pillar Bluff Vineyards tasting room where he told us his story. After spending 20 years in the army, he returned to Texas. He planted a few vines, which were successful. In 1997, he planted five acres of grapevines. These included Chenin Blanc, Chardonnay, Viognier, Cabernet Sauvignon, Merlot, Cabernet Franc, Petit Verdot and Malbec. With a late fall frost date of November 7 and winter over between March 15 and April 17, spring late frosts are a major concern. However Gill is successful with his vineyards and as he said, "I'm going down this road whether anyone is with me or not." Gill has achieved success at Pillar Bluff.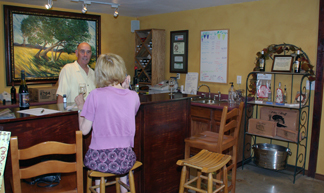 Pillar Bluff Vineyards received its bonding license in 1999 and opened the tasting room in 2002. Currently, they are producing 1,200 to 1,400 cases each year.
The tasting room is delightfully small with a wood tasting counter. The Tuscan yellow walls provide a warm feeling. A number of gift items are available for purchase. These include Riedel glasses, wine bags, cheese trays, wine bottle carriers, picnic bags and wine bottle tags.
A gazebo outside of the tasting room provides a great location for events among the vines. Gill has music events scheduled for every second Saturday throughout the year. The winery also has a Celtic event every Solstice. The pavilion is the site for weddings and other private events. Gill related the most satisfying day he ever had. As he looked towards the large gazebo, two or three couples were enjoying themselves and someone spontaneously picked up a guitar and started playing. What more can one ask for than a delightful afternoon in a vineyard with the gentle sound of music?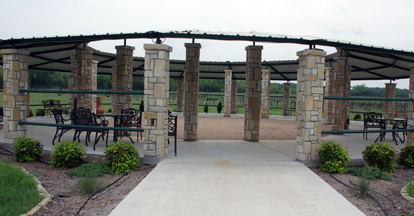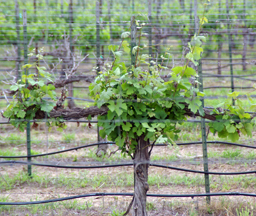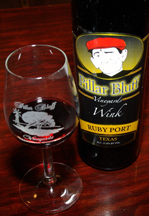 Wines
We tasted four wines beginning with the 2006 Boar Doe. (The Boar Doe name will be changed in the near future.) This was a blend of Cabernet Sauvignon, Merlot, Cabernet Franc, Malbec and Petit Verdot. The result was an aroma and taste with earthiness. The finish was crisp and earthy. Pinot Noir 2007 offered an aroma that was of light red fruit – raspberry and strawberry notes. The taste was earthy with notes of mushrooms. The finish was crisp, earthy and fruity. Pinot Noir is the only Pillar Bluff wine produced with grapes from outside of Texas.
Wink was a ruby port. The nose and taste were of dried fruit. The finish was also of dried fruit and was a lighter bodied port. Gill dedicated this bottle to his father, whose nickname was Wink. His father winked when greeting people.
Cooper's Guild
Pillar Bluff Vineyards offers a barrel program appropriately named Cooper's Guild. You may want to consider this option. Over a three-year period, members receive six cases of wine and a brass nameplate on their barrel. Participants are able to visit their barrel by appointment. They also receive a discount on wine and retail purchases in the winery tasting room. This is one of the best value barrel club values that we have encountered.
Consider spending an afternoon at Pillar Bluff Vineyards under the gazebo with a glass of wine. Perhaps someone will pick up a guitar and add music to the setting.
Pillar Bluff Vineyards
300 County Road 111
Lampasas, Texas 76550

GPS: N31º 01.759' W98º 13.665'
---
Visit these Texas wineries that partner with Wine Trail Traveler.