Wine Trail Traveler 2017 Holiday Gift Guide
for Wine Enthusiasts Part 2
Part 1 of the Wine Trail Traveler 2017 Holiday Gift Guide includes items created by Wine Trail Traveler. There are four wine books, embroider kitchen towels and wine related collages.
Part 2 of the Wine Trail Traveler 2017 Holiday Gift Guide includes items we have reviewed during 2017. These are divided between wine accessories and wines that impressed us.
---
Wine Accessories
The Waerator Instant Wine Aerator has a sleek design and easy to use. Remove the capsule from a wine bottle and insert the Waerator. Press a button and your wine flows easily into a glass. We discovered that this item was easy and fun to use. It makes pouring wine unchallenging. If you hold a wine glass lower, you can produce quite a few bubbles on the wine's surface during the pour. These bubbles quickly vanish. The item comes in red or black. We received a red colored Waerator to review. Price: $59.99 on Amazon.
---
Wine Suggestions
Throughout the year we have written about many wines. Some of our favorites that would make good selections for the holidays are listed below. These wines were tasted at events in Washington DC, or we received samples of these wines. Although we provide links to sources that sell these wines, we do not endorse any of these retailers. Spend a moment and shop around.
White Wines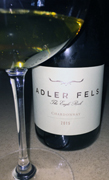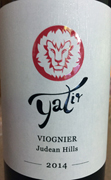 Adler Fels' 2015 Chardonnay has an intense aroma meets the senses before the face encounters the glass. The light gold colored wine was crafted with grapes sourced equally from Russian River Valley and Monterey County. Apple, pear and peach were noted on the aroma. The taste was predominantly apple. The silky mouthfeel was accompanied by a full-body. The finish was multi-layered. First the finish had apple notes followed by a hint of peach and ending with chalk. The wine was a 14.4% alcohol. The Chardonnay was delicious and paired well with perch and rice. Price $19.99 at Wine Trees.
Yatir Viognier 2014 Judean Hills was crafted entirely with Viognier. The wine aged for six months in oak. It had a yellow color with gold hue. The aroma had yellow stone fruit notes, while the taste emphasized peaches, nectarines and a hint of caramel. There was a nice finish of fruit and oak. We did pair this wine with friends and Chinese take-out. Everyone raved about this Viognier and how well it matched with the different food. Price $33.99 at Kosherwine.
Albariño Wines from Rias Braxis Region of Spain
These wines tend to be crafted from 100% Albariño grapes. The Rias Braxis region is in the north west section of Spain, north of Portugal. There are several Albariño wines that we tasted this year and enjoyed; a couple are listed here.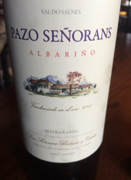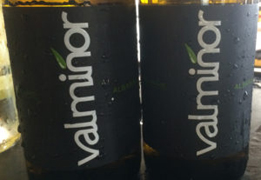 The Pazo de Señorans Albariño 2015 wine is a yellow colored wine with 12.5% alcohol. The aroma and taste offered notes of stone fruit, some citrus and mineral with a hint of salt. the wine was medium-bodied with with an oily mouthfeel. The wine offered a sense of the exotic. Wine pairings suggested included all types of seafood such as octopus, squid, shrimp, salmon, swordfish and oysters. Price $23.99 at Wine.com.
Valmiñor 2015 Albariño was produced with 6 to 8 hours of cold maceration.  The Albariño wine was a yellow color. It offered notes of citrus, mineral and melon. The  full-bodied wine had a fruity finish with the fruit yielding to mineral notes. Price $16.99 at Wine.com.
Rosé Wines
VieVité ExtraordinairE is a beautiful rosé that excludes holiday cheer. The wine is crafted by Domaine Sainte Marie near Saint Tropez in the Provence region of Southeastern France. The winery dates back to the 18th century and is known for its 80-year old Grenache vines. This rosé was a blend of 85% Grenache, 10% Cinsault and 5% Rolle. This rosé comes in a beautiful bottle, a wonderful addition to the holidays. The grapes macerated with the juice for a short time to capture the color. The light salmon colored wine offered a fruit salad aroma. It had strawberry and mango tastes and a crisp, fruity finish. Although it pairs well with seafood, roasted turkey, duck and rabbit, we discovered that it was a fitting aperitif to celebrate bringing friends together for the holiday season. The VieVité ExtraordinairE is distributed through the country in many fine restaurants and wine stores. The MSRP for the VieVité ExtraordinairE is $29.95 at Sherry-Lehmann.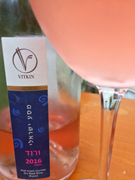 The 2016 Vitkin Winery Pink Israeli Journey Dry Rosé was a blend of 90% Grenache Noir (Garnacha) and 10% Carignan (Mazuelo). The grapes for this particular blend were sourced from vineyards in the East Carmel Ridge. Some of the fruit was left on the skins for several hours to extract color and flavors, while the rest of the fruit was pressed with little skin contact. The wine had a salmon color with a red hue. The very fruity aroma emphasized red berry fruit especially strawberry on the taste. The finish was crisp and fruity with fruit yielding to mineral on the aftertaste. This is a perfect aperitif. We paired this wine with cheese and humus. We also had it as an aperitif. This is an excellent wine for Mother's Day and throughout the summer months. Keep the wine cool with a frozen strawberry added to the glass of wine. Price $22.99 at Kosherwine.
Red Wines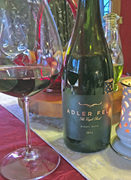 Adler Fels' 2014 Pinot Noir is made with 76 percent of Pinot Noir grapes sourced from Santa Rita Hills in Santa Barbara County while 24% of the grapes were sourced from the Russian River Valley in Sonoma County. The wine had a translucent dark ruby color and emphasized fruit on the aroma and taste. The most notable fruit was raspberry. Also on the taste were hints of vanilla, baking spices and blackberries. The medium-bodied wine also had medium tannins. It had a fruity finish. The wine had 14.4% alcohol. This is a very  quaffable Pinot Noir that was delicious with a ham dinner. Price $27.99 at Wine Trees.
Locations E was a blend of Spanish grapes from different areas of Spain. The blend included Garnacha, Tempranillo, Monastrell and Cariñena. These grapes were sourced from Priorat, Jumilla, Toro, Rioja and Ribera del Duero. Sunny Spanish blend /Dark fruits captured the landscape/Fruit forward, oak touch. Price $17.99 at Total Wine.
---