Welcome! Winetrailtraveler.com is for anyone interested in learning about wine. Winery Reviews has articles about visiting wineries and vineyards. Wine Simplified is our wine education area. It has modules and guides about vineyards, winemaking and tasting. You will find articles about Wine and Culinary Centers and wine museums. The Recipe menu will take you to our recipe section. The recipes use wine as one of the ingredients. Click on the Blog menu to see what is happening almost daily. The Opinion menu offers editorial articles and articles written by our columnists. Visit our partners in the Partner menu. Our partners are wineries, vineyards, lodging establishments and artists who advertise on Wine Trail Traveler.
News

Trending on Wine Trail Traveler this Week May 16th
1. Introducing the Wine Tourism Club blog
2. Tasting Room etiquette article
3. First Wine Tourism Day: Maryland Wineries Offer Special Events blog
4. Mother's Day Gift ideas blog
5. Black Rooster article
What's New on Wine Trail Traveler – May 2, 2013
Upcoming Book Signing
Terry and Kathy will sing copies of their book A Wine Journey on May 12th, Mother's Day from 1:00 - 5:00 at Three Fox Vineyards in Delaplane, Virginia.
Top 10 Wine Trail Traveler articles and blogs for April 2013
Tasting Room Etiquette article
Keyways Winery article
Spring edition of the Wine Trail Traveler Quarterly
Black Rooster article
Fondazione Villa Russizin Capriva del Friuli Gorizia, Italia article
Some Misconceptions About Maryland Wine article
Pitars Winery San Martino al Tagliamento, Italia article
About Wine Trail Traveler page
Livio Felluga Winery in Cormons (GO), Italia article
Lis Neris Winery in San Lorenzo Isontino, Gorizia Italia article
Top Companion Site articles and blogs for April 2013
In the lab: testing for sugar levels and Ph blog on Winemaking site
Azienda Agricola ZOFF, Italy article on the Food site
The Homestead in Glen Arbor, Michigan article in the lodging site
A Wine Journey
A Wine Journey was published in November. Terry & Kathy Sullivan, owners of Wine Trail Traveler, have been busy setting up book signings both informal and formal. Their first book signing event took place on December 15th at Pearmund Cellars in Broad Run, Virginia. Many more book signing events will take place.
Check out the book's website.
Vacation in Wine Country
Planning a vacation in a wine country? Wine Trail Traveler offers 58 trip itineraries that can be used as a tool to help you plan your vacation. The trip itineraries cover some of the wine regions in 12 states as well as some of the wine regions in Canada and New Zealand. Watch for new trip itineraries for wineries in Tennessee and additional trip itineraries for Virginia.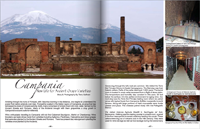 Article about traveling to wineries in Campania, Italy in Destinations Travel Magazine - Wine & Food Edition - April 2012.
Wine Trail Traveler owners, Kathy and Terry Sullivan were interviewed by the International Wine Tourism Conference. Read the article published on the IWINETC website.
WineTrailTraveler Family of Websites:
WineTrailTraveler.com
AWineJourney.WineTrailTraveler.com new
Food.WineTrailTraveler.com
Winemaking.WineTrailTraveler.com
Lodging.WineTrailTraveler.com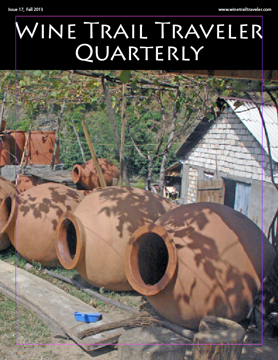 Spring 2013 Edition of the Wine Trail Traveler Quarterly pdf
Contents
On the Cover: The Abbey of Rosazzo in Udine, Italy
Focus on Friuli, Italy
Focus on Croatia
Focus on Long Island
Wine in the Bible: False Prophets and Bearing Fruit
Partners
Back Page: Wine is made in the vineyard
---
Companion Website on Winemaking
With the the fall 2009 harvest, Wine Trail Traveler made two barrels of wine at two local wineries. One barrel was made at Vint Hill Craft Winery in Vint Hill, Virginia while another barrel was at Tin Lizzie Wineworks in Clarksville, Maryland. Both barrels hold Cabernet Sauvignon however the winemaking techniques differed. You can follow the process on the companion website.
Companion Website on Lodging
Wine Trail traveler created a new companion website on lodging facilities on or near wineries. This website offers lodging reviews, recipes (that do not have wine as an ingredient) and destinations. The destinations list wineries, attractions, restaurants and lodging in different areas. You can use the destinations section of the website to help plan a vacation. New lodging reviews, recipes and destinations will be added to the site on a regular basis. Lodging site